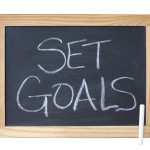 Do you want to succeed?  Do you want to live up to the potential you are fully capable of? Here are the things you must do:
Create goals
Believe in your goals
Work on your goal
For more information on goals take a look  at "Hey Black lady get selfish. The time to live your dreams is now!."
Those things are easy.  We all have done those things. But there is one more thing. The real nitty-gritty. What makes you successful is knowing what to do when tough times will come. When the chips are down and odds are stacked against you, you have several choices. Do you lead or do you follow? Do you create or do you imitate? Do you believe or do you doubt? Do you continue or do you quit? That's what separates you from your greatness.
You might say I am not good enough or I am not smart enough. Listen, there are no extraordinary people. We are all human. The difference between you and those people is that those people have done what you are fully capable of doing. They have done extra ordinary things.  They go above and beyond. They don't let fear or money, age, or race or anything else get in their way. The secret to their success has nothing to do with having enough money do something need or finding the right time to do it. They wanted something bad enough with they made it happen. The secret to success can be summed up in three words: NEVER GIVE UP!
Never ever give up on your dreams and goals. Never settle for just good enough. It's as simple as that. You have to decide. So what do you want? Mediocrity or success.
Remember the only limit you have are the ones you have placed on yourself. Think and be limitless.
Don't forget to follow the 100 Days to a Brand New You Challenge here.