My Story
First of all, my posts are largely influenced by the mothers of the Black Empowerment Movement, Black Womanist and  Feminist and both my mom's and Nana's common sense. I will always pay homage to those women because without them many of these up and coming websites would not exist.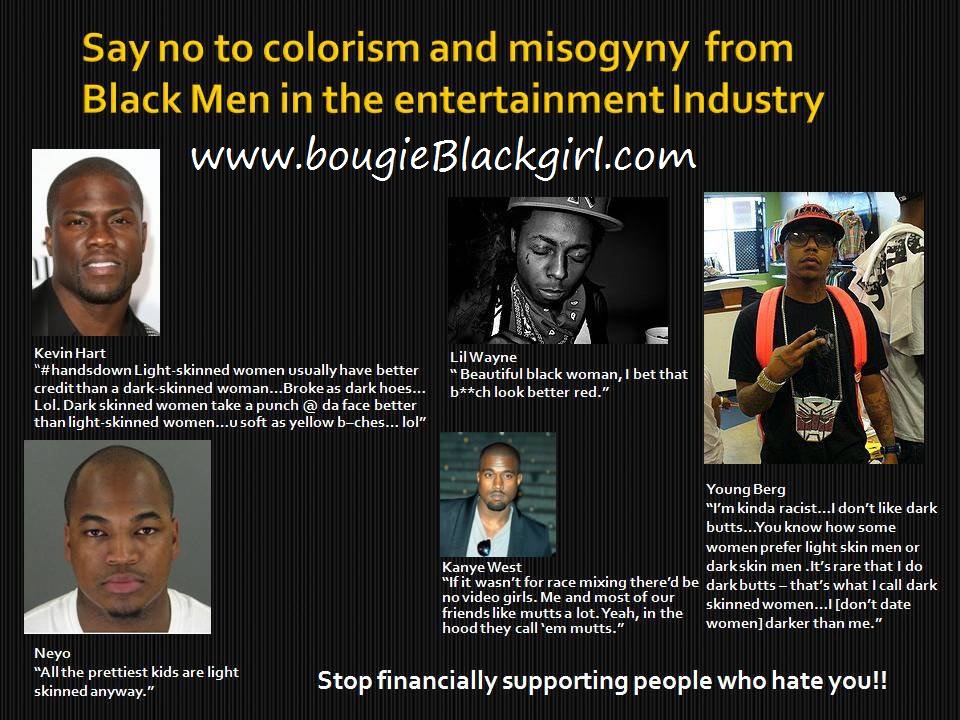 On April 11, 2012, I read a post and saw that a Black entertainer had dissed Black women. That same entertainer had a movie coming out and expected us support his movie. Then I realized that other Black men entertainers did the same thing and gotten away with it. The NAACP didn't care. The Urban League didn't care. The only ones that did were the Black Women Empowerment sites. So I did some research and set up the bougieblackgirl. wordpress.com website.  I found the quotes and listed the sources. The post was called "Black men in the Entertainment Industry that Dissed Black Women that Black Women Still Support," but I saved it as a draft. What was the first post I published? You guessed it. In typical fashion, my first post was on the Travyon Martin situation. Everyone including the NAACP, the Urban League and every other Black organization was commenting about it. I noticed those same people didn't care about the mental, emotional, financial, physical and spiritual violence Black women and girls faced daily. Two examples were the deaths of Rekia Boyd and even earlier Aiyanna Jones. On April 12, 2012, I created the BBG Facebook page and changed my name on my Twitter account.
No one saw my Travyon Martin post so later on I posted the Black men in the entertainment industry post and it went viral. Within a few minutes I had 30,000 views and so Bougie Black Girl began. Blah, blah, blah! Enough about me this is about you.
I have four questions to ask you:
Do you find yourself writing long posts on social media and people like it?
Are your tweets getting retweeted?
Are your posts being shared on Facebook?
Has your stuff gone viral?
If so, you should start a website. I am a big believer in if you create something you must own it. It could be a hashtag, a product or even an idea. If you don't do it, someone else will. Why? Because they can and will benefit from your free ideas as long as you don't. Remember the #bringbackourgirls hashtag theft by that White lady.  That is where Black folks get ripped off.
Some folks will say they don't want to exploit the idea , "I am in this for the love" or "I'm uncomfortable with making money."  That's great but while your ass is in it for the love Lil Johnny is columbusing your idea and is:
Building a website
Setting up social media accounts
Setting up adsense accounts on their website
Showing up on TV
Only to write a book and have it appear on the New York Times Best Sellers List months later. Uncreative but business savvy Johnnie Columbusing loves that you are in this for the love too. Johnnie realizes this is a business and you added zeros to his account by doing all the work.
That is what gets me with Black folks on the net. We put in so much time and energy in building up other folks websites i.e. Facebook, Twitter and Instagram we get nothing in return.  Then we get mad when someone else takes and makes money off of our idea. Take a hint. Drop your ego and STOP GIVING your creativity away for free.
Social media websites make billions from Black free creativity. Ask yourself what product does Facebook or Twitter produce? NOTHING! They exist because you are on their sites. Without you sharing your content they are nothing, so turn those sites towards your advantage.
Buy a god damn website, own the Facebook page and other social media platforms. If you start a hashtag and it becomes popular buy the domain name as soon as you realize it will go viral. If you have a picture before it goes viral watermark it. If you post a video online and you own it DO NOT GIVE IT TO WORLDSTAR. Get an Adsense account and post it on YouTube. Cut the Worldstar middleman out and make money directly via Adsense. I will explain Adsense to you later.
That's the why. I will show you how in my upcoming post. Right now check out my" Black Blogs and White Ownership: Why Black women will not have safe spaces" post and share those posts with you networks. Thanks for reading.
Look out for part two:  Domain Names and Should I Purchase a Website or Use a Free Hosting Site?  What are the differences.
****UPDATE****
Unlike what I did not do I insist you license and copyright your work. It is frustrating to have to prove to a publication that they lifted your content. When it comes to my content I am like that hood ass aunt who will confront you on the street. I go straight to social media. I have found that you get more results when you engage these online publications in public then when you do it in private. Check out Creative Commons. They offer different licenses. Please select the one that works for you. http://www.creativecommons.org/choose/