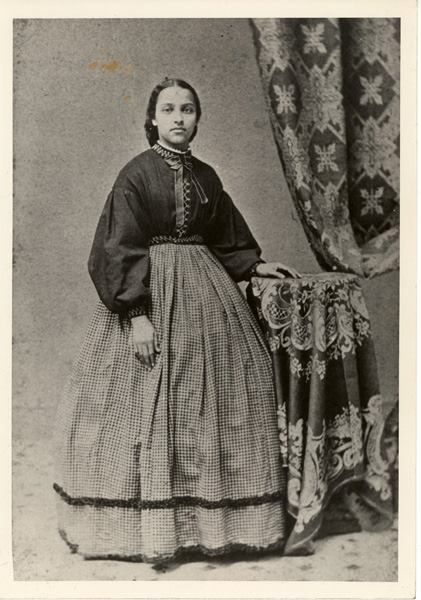 Mary Jane Patterson was born a slave on September 12, 1840? in Raleigh, North Carolina. Possibly fugitive slaves, her parents, Henry Irving and Emeline Eliza Patterson along with her six other siblings, left Raleigh and headed to Oberlin, Ohio. Why Oberlin, Ohio? Well Oberlin was a stop on the Underground Railroad and Oberlin College had progressive policies, including educating Black people. Because of this, Oberlin, Ohio was known as a haven for its formerly enslaved Black population.
Mary Jane later attended Oberlin College in 1857. Unlike most women students at Oberlin, instead of getting a two-year degree, she opted for the four-year degree program. The four-year program was an educational path traditionally pursued by men. In that program she studied subjects like Latin and math. In 1862, Mary Jane graduated in with a Bachelor's of Arts degree becoming the first African-American woman with a bachelor's degree. Her story is amazing, but her accomplishments didn't end there.
Mary Jane Patterson committed her life to the education and uplift of her people. It was only natural that after Mary Jane graduated from college, she became an educator in Chillicothe, Ohio. Later she went to teach at the Institute for Colored Youth in Philadelphia.  After moving to Washington D.C., in 1871 she eventually became a Principal at Paul Laurence Dunbar High School. She left the position for a few years and became the Principal again in 1873. Mary Jane served as principal until 1884. As a testament to its resilience, Paul Dunbar is still open today.
Mary Jane Patterson died on September 24, 1894. She was 54 years old.
Highlights:
Mary Jane graduated with honors from Oberlin.

She wasn't the only member of the Patterson family to graduate from Oberlin. Three of her siblings also graduated from Oberlin.

Other early African-Americans who attended Oberlin were artist Edmonia Lewis and educator, abolitionist and Black women's activist Sarah Jane Early. Sarah Jane Early graduated from Oberlin.
Mary Jane Patterson helped found the Colored Women's League of Washington, D.C.
Mary Jane Patterson's accomplishments, like many others,  reminds us that we stand on the shoulders of giants. Today take the time to appreciate where we stand and share this incredible story with your friends and family. The only limit you have, is the one you have placed on yourself. Think and be limitless.
If you live in the DC area and are an educator, consider applying for the Mary Jane Patterson Fellowship for Aspiring Principals. Click here to apply for the fellowship.
Sources and for more information please go to:
Oberlin College
http://www.oberlin.edu/external/EOG/OYTT-images/MJPatterson.html
Black Past
http://www.blackpast.org/aah/patterson-mary-jane-1840-1894
The Oberlin Fugitive Slave Rescue: A Victory for the Higher Law
http://scholarlycommons.law.northwestern.edu/cgi/viewcontent.cgi?article=1021&context=facultyworkingpapers
Women of Oberlin College
http://www.womenhistoryblog.com/2014/10/women-of-oberlin-college.html
Biography
http://www.biography.com/people/mary-jane-patterson
If you like this post please share it by donating at www.bougieBlackgirl.com/donate. Thank you for your continued support!!
Create your own personal life plan check out my Change Your Mind, Change Your Life Goals and Action Plan Worksheets. It will help you create goals and action steps to achieve them. Need a last-minute gift? Check out "Change Your Mind, Change Your Destiny" on Amazon for only $2.99. Did I mention it is free for Amazon Prime and Kindle Unlimited users? WE LOVE FREE!! Also check out my 5 steps to building a killer blog and make money from it course. How much is it? Pay what you can.