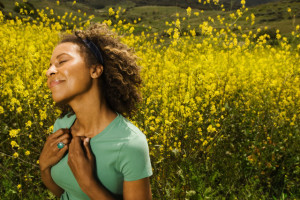 Black women aren't living the lives we should. Many believe struggle, suffering and misery is a Black woman's destiny.  Don't believe me? Read Black women's magazines, go on social media, listen to our loved ones, go to our houses of worship or listen to our favorite Black celebrities (who want us to support their projects of course). They're the ones telling us our hair isn't good hair, our skin is too dark, we're not Black enough, our asses are too big, we're too smart, we're too independent, we're not dependent enough, we're too bougie, too ghetto, over sexed and no one wants us. Look who supports these fools. CHILE it's us!! This leaves us unhappy, unhealthy, confused and down right depressed.  These negative and contradicting messages are really taking a toll on us. Have you seen our health statistics? ¡Jesus Cristo (in Spanish)! Well this stops now. You deserve better. This list tells you how. So here are 70 things every Black woman must do now to have the life she wants.
Don't let others dictate the terms of your life. Start living life on your terms.
Wear your hair the way you want.
Wear your makeup the way you want or don't wear any at all. Remember, it's your choice.
Dress the way you want.
Be who you want to be in a world that tries to tell you who you shouldn't be.
Boxes are made for clothes, not people. Step outside the box and step in your greatness.
Guard your mind, spirit and body.
Let go of toxic relationships, even if its with family.
Being nice doesn't mean you should be treated like trash. You deserve respect.
If someone treats you like trash the first time, they'll probably treat you like that again. Leave them alone.
Support people who support you. Demand reciprocity.
Stop being hard on yourself. Everyone makes mistakes. Forgive yourself and learn from them.
Stop saying "I'm sorry" for no reason. You may not realize it, but you're apologizing for being who you are. STOP!
Don't. Apologize. For. Being. You.
Say no and don't feel bad about it.
Remember, no one is entitled to your time, energy, money, body or attention because of who they are or what they have. This is your life. (See #15)
You don't need the validation of others. The only person you have to prove something to is you.
What we spend most on time on is our priority. Ask yourself, what do you spend the most time on and do you really want that to be your priority?
Turn off the news and get off the internet. It only depresses you on purpose.
Don't argue with racists, sexist, bigots, strangers and random trolls on the internet. It's a waste of your precious time. You'll never change a mind that is emotionally and financially invested in your humiliation and subjugation.
Block people and negativity ruthlessly!
If someone doesn't like you, so what. That's their problem and their loss.
Practice self-care. Self-care is an act of self-preservation and self-love. Protect and nurture your space, mind, body and spirit.
Put yourself first. Take care of yourself. Get your checkups and listen to the doctor's advice.
Meditate, pray, dance, exercise, walk and listen to music more. Whatever it is; do things that alleviate negative stress.
Get a massage. (HELLO Groupon)
Date who you want.
Remember you're a prize! People must earn your time, energy, trust and love.
Be mysterious!
Fall in love with someone who loves you more than you love you.
Travel to a different city, state or even country. (Get a passport)
Try different foods.
Make new friends.
Learn a different language.
Remember you deserve love and be loved.
Love yourself the way you want someone else to love you.
How you start in life, doesn't have to be how you live your life. Walk your own path.
Don't settle for mediocrity.
Embrace change.
Challenge yourself. Go beyond where you think you can go. Just when you think you've gone as far as you can, climb a little higher, dig a little deeper and push a little bit harder. Make a commitment to yourself and your deity (if you believe in one) to do this every single day.
Try and succeed or fail. You'll never know how far you can go until you try.
Also, try your best!
Trust your instincts. Your instincts exist to protect you.
Unsure about your life? Surround yourself with positive and ambitious people. Behaviors are contagious. They'll make you positive and ambitious.
Inspire someone!
Be inspired!
Get a mentor.
Be a mentor.
Remember you're more powerful than you think.
Stop waiting for permission and give yourself permission.
If you want something, go get it.
Inaction is an action. If we decide to do nothing, we can also decide to do something. You have a choice.
Fear isn't real. It's a waste of time.
If you don't like the direction of your life, change it. When we change our minds, we can change our reality.
Don't let someone else's limitations on you become your expectations.
Believe in yourself, your dreams and your destiny.
Learn something new!
Create a dream board and put everything you want on it.
Write down your goals.
Create action steps to achieve them.
Focus and work on your goals.
Never give up on your goals.
If someone doesn't believe in you, so what. What matters is that you believe in yourself.
If you're having a bad day, don't forget some people didn't get a chance to see today. Be grateful for the gift of life.
Remember you're supposed to be here.
You're responsible for your life.
Fall in love with you today.
Laugh more!
Be yourself!
Love more and enjoy life!
Please feel free to add to this list. Black women are a special and selfless bunch. I want so much for you. I'm tired of seeing us struggle when we don't have to. Try to take my unsolicited advice. Print out this page and read this list every day. You deserve this. You earned this. Today go out and do this. The only limit you have is the one you've placed on yourself.  Think and be limitless!
If you like this post please share it and help me out by donating at www.bougieBlackgirl.com/donate. Thank you for your support!!
Create your own personal life plan check out my Change Your Mind, Change Your Life Goals and Action Plan Worksheets. It will help you create goals and action steps to achieve them. Need a last minute Christmas gift? Check out "Change Your Mind, Change Your Destiny" on Amazon for only $2.99. Did I mention it is free for Amazon Prime and Kindle Unlimited users? WE LOVE FREE!! Also check out my 5 steps to building a killer blog and make money from it course. How much is it? Pay what you can.