I've been outed. I've been accused of being a Black man hating pro gay black feminist. Black man hating? Naw, what I really hate is Black patriarchy and misogyny.
You see Black patriarchy and misogyny goes against my common sense and of course my self interests. Why in the world would I support any individual or system that discriminates against me? I love me some me too much! Why in the world would anyone expect me to act against my own interests? Chile no! And to conflate Black men with hating Black patriarchy & misogyny is utterly ridiculous and says a lot about the people who do. They're usually the proBlack patriarchy & misogyny crowd who hate Black women. They're mad because I tattled on them here, here and of course here. Click the links to find out how!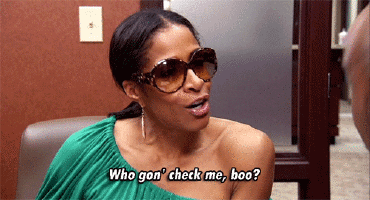 As to being called a pro gay black feminist, look at god. Yes I'm and I graciously accept the honor of being called progay. I dedicate this moment to my Uncle (RIP) who was a proud gay Black military man. He, like many of our LGBTQ relatives raised, nurtured, protected and loved us. Why the hell would I reject my own people? Unlike like the small but vocal community of Black homophobes,  I am really proBlack and being proBlack means embracing, celebrating and loving the spectacular diversity of the Black experience.
I do want you to know I'm not a feminist nor am I Black nationalist. While I love the Black nationalists aspects of entrepreneurship and self-reliance and the feminist aspects of equal pay, equal rights, contraceptive services, etc it's the other crap that turns me off. Here's why:
Black nationalism = proBlack male patriarchy (It's Black male centered)
Feminism = Pro White women (It's White women centered)
Womanism (some may disagree) = May on the surface seem for Black women, still centers on Black men. (It's like Black women are deciding between saving the world or saving ourselves. Many would choose the world.  While admirable, self-sacrificing isn't for me.)
As a Black woman, I don't fit into any of these boxes. I prefer to do what members of the Black male nationalism and White Woman feminism movements do and that's to put myself first. I know its shocking for some to see a Black woman put her needs first instead of self-sacrificing, fixing and uplifting others. But one day I just up and decided that I was worthy of loving, protecting and uplifting myself.
If you want to label me, I would call myself proBlack woman. My definition of a proBlack woman means focusing on our community's most ignored and disrespected population. Who are they? Black women and our children. So you see my friends I simply refuse to trade an oppressive White supremacist patriarchy for a proBlack nationalist one. I am pro-me. I hope this clears everything up.
The only limit you have is the one you have placed on yourself. Think and be limitless.
If you like this post please share it and help me out by donating at www.bougieBlackgirl.com/donate. Thank you for your support!!
Create your own personal life plan check out my Change Your Mind, Change Your Life Goals and Action Plan Worksheets. It will help you create goals and action steps to achieve them. Need a last minute Christmas gift? Check out "Change Your Mind, Change Your Destiny" on Amazon for only $2.99. Did I mention it is free for Amazon Prime and Kindle Unlimited users? WE LOVE FREE!! Also check out my 5 steps to building a killer blog and make money from it course. How much is it? Pay what you can.