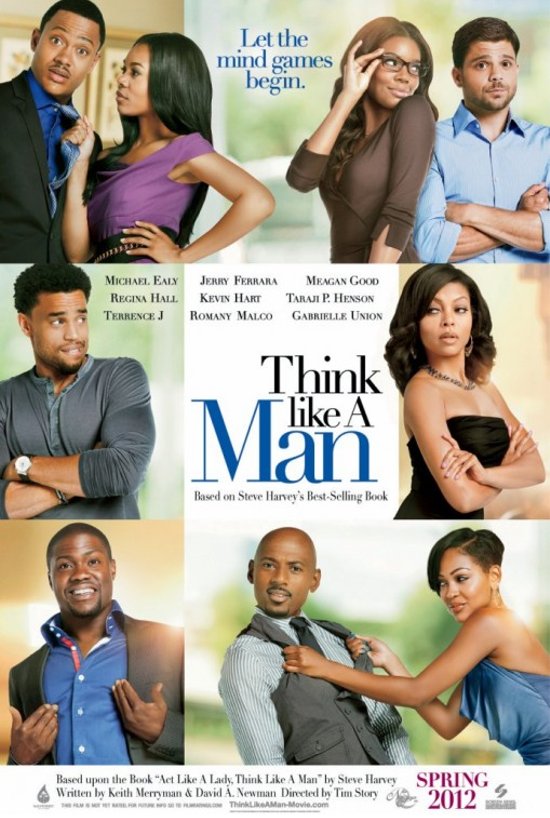 Next week will be the beginning of the mass Black exodus to our local movie theater to see Think Like A Man. Like The Help, I will have all kinds of people asking me if I am going. And my reply would be the same as it was for the Help, Precious, or any other movie I am not interested in. No! Folks kiss my grits. Black folk you will not guilt me, whine at me, pray on me or pay me to see a Steve Harvey flick. I rebuke you in the name of Jeez-us. I don't care if it has 50 Black folks including Aunt Ruth, Peaches, Pookie or Cousin Ray Ray I won't see it. I refuse to make another snake oil salesman rich. If I wanted to do that I would go sit in a pew on Sunday.
Here is the cast:
Arielle Kebbel
Taraji P. Henson
Meagan Good
Gabrielle Union
Michael Ealy
Kevin Hart (Colorist)
Morris Chestnut
Gary Owen
Romany Malco
Chris Brown (Colorist Woman Abuser)
Regina Hall
Jerry Ferrara
Terrence J
Kelly Rowland
Nicole Anderson
Keri Hilson
Wendy Williams
Ne-Yo (Colorstruck)
Marcus Canty
Marcus Stroud
Kevin Hart- "Light skin women have better credit than dark skin women" 
Neyo- "All the prettiest kids are light skinned."
Chris Brown gets a no comment from me!
Now you see why I won't see it. I am not dumb enough to support Black White Supremacists who hate me. I am not stupid enough to give these people my hard earned money. Ask your non-christian friends how many of them will go see another Mel Gibson movie after his antisemectic remarks. I am guessing none.
Doesn't it seem like Hollywood always recycles the same old Black woman haters in every movie. Here is a tip Hollywood. There are thousands, heck millions of professional Black male actors out there. Quit being lazy and find them. Praise be to Zeus that they didn't bring on Terrence where relationships with non-Black Women "represents progress" Howard.  Actually I am quite shocked because this movie is a chock full of nuts with Black women haters who want to take Black women's hard earned money. The only reason the two singers are always in movies with a majority Black cast is because they have sold records. They aren't in this movie because they can act. Just watch those urban tragedies Neyo's Red Tails the place where Black women do not exist and Chris Brown's Step it Up formerly known as Stomp the Yard/Save the Last Dance/Feel the Noise/Stick It/Take the Lead etc.
Back to the Book
First of all, if you read the book critically you will see Harvey's sexism is cloaked as advice (which he allegedly "borrowed " from Sharon B. Carson).  In his book he called sex "the cookie"? Really Mr. Harvey. Are we in fifth grade?  Secondly, his book makes it seem like men are simpleton beasts that only require support, love and "cookie" (a code word for sex). Guess who is suppose to be complicated? You guessed it. We women are. So women folk if you eliminate the last need he makes men seem like Chia pets. "Sprinkle the seeds provided, water them, and watch them grow." For me personally I expect to see same message from the movie except with a lot more laughter with them a not at the book.
Here is a question. As a Black person you wouldn't ask or expect me to support Ron Paul's racist ass because he was against the war while I magically forget all of the racist things he said or wrote? So why as a woman are you asking me and millions of other women to willfully contribute to our subjugation in the name of racial loyalty. I didn't see race loyalty come up with the award winning movie Pariah. No one parted the Red Sea to actually see a well made movie that was written and directed by a Black woman.  In case you are wondering what do I plan on doing with my money next week. I am saving it! Heck I got bills to pay and kids to feed.
Listen if you want to find someone go where the quality people are. Don't settle for trash. Remember trash doesn't stink at night but it always starts to stink over time while sitting in the sun. If you really want great advice speak to people who have been successfully and happily married for years and not the folks who were married multiple times that eventually decided to put a ring and now a $4 million ring their jump-off
Herbert and Zelmyra Fisher have been married for 86 years. If you want solid advice follow them on twitter at @Longestmarried. Now that is a marriage!!!
Stay Bougie,
BBG