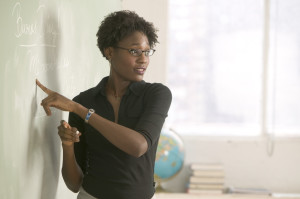 Parents, students, and countrymen lend me your ears or in this case your eyes and common sense! First of all congrats on deciding to further your education. But before you dump $80,000 in student loans and commit to a lifetime of involuntary servitude to Aunt Sallie Mae or listen to cousin Peaches corner store career advice, read this post first.
Everyone talks about following your dreams. I am a firm believer in it. I hear the angels singing and I see the celestial clouds parting, but I will not tell a lie. Following your dreams is great, but you do not want to go to the poor house doing it. Shout out to my peeps in helping occupations making $30-$40k a year, with PhD degrees and $100k worth of debt. Let's not forget my homies with certificates from for profit schools pulling in $19,000 a year as a medical assistant when they could have went to a state school and became a nurse for the same price. We see you! It is not your fault. You didn't know. Those commercials lied! For real they did. Read, "Federal Lawsuit Accuses For-Profit Schools of Fraud" and "Major For-Profit College Chain Systematically Deceived Students: Attorney General."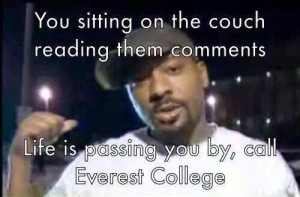 What we do know is that college is looking more and more like a luxury for the rich, (Read: The rich-poor gap for US college grads widens) so you need to get the most bang for your buck. That includes picking the right major. Here are some tools to help you pick out your major.
Take a look at the January 2015 NACE (National Association of Colleges and Employers) Salary Survey. It is a survey of employers hiring in 2015.  Fyi, these are early projections. The next survey comes out in April. According to NACE the top paying starting salary projections for new college graduates with a bachelor's degree in the following broad majors are:
Starting Salary Projections for College Graduates With a Bachelor's Degree by major
| | |
| --- | --- |
| Major | 2015 Average Salary |
| Engineering | $62,998 |
| Computer Science | $61,287 |
| Math & Sciences | $56,171 |
| Business | $51,508 |
| Agriculture & Natural Resources | $51,220 |
| Healthcare | $50,839 |
| Communications | $49,395 |
| Social Sciences | $49,047 |
| Humanities | $45,042 |
Source: January 2015 NACE Salary Survey
Also look at the Bureau of Labor Statistics Occupational Handbook. The handbook gives an awesome description of each occupation, salary and employment growth projections. According to their projections for occupations between 2012-2022 with a growth rate of 30% and a 2012 salary of $75,000 or more are:
Bureau of Labor Statistics Fast Growing and Highest Paying Occupations
Source: Bureau of Labor Statistics Occupational Hand book
If you are going to spend a million years in college, you might as well get the biggest bang for your buck. There are just too many Starbucks baristas with college degrees pulling in $8.00 an hour because they cannot find a job in their major. Before you become one of the many overqualified and underpaid, really think about the consequences of your major and take an unemotional look at the numbers. By the way, you don't need a degree to make a lot of money. Here are some awesome high paying jobs without a degree.
Required reading:
The Rise of the African American Permanent Underclass Part 1
The Rise of the African American Permanent Underclass Part II: How to avoid it 
Six websites that will help you learn a new skill for a low price or even for free!
Remember the only limit you have is the one you have placed on yourself, so think and be limitless.
Join the internet's only online forum exclusively for Black women

here

.
Since you made it this far in the post, as my gift to you, I want you to download my free Change Your Mind, Change Your Life Goals and Action Plan Worksheets. The worksheets will help you create your goals and stick to them.
If you like this post don't forget to subscribe, share this post and or even donate to this blog.
Have you seen someone you know living an unfulfilled life, and you are afraid of living that way? Are you unsure about achieving your goals and the direction of your life? Purchase my book Change Your Mind Change Your Destiny. It is "The lifestyle blueprint for the strategic Black woman who wants to win and master her life." For only $2.99 and within hours you will be given tools created specifically for Black women to create goals and action steps to help you live the life of your dreams. Take the first step towards fulfilling your dreams. All you have to do is buy Change Your Mind Change Your Destiny today.
We want to customize the forum for you. Don't forget to take the 30 second survey here and tell us what you need. Thank you.