Isn't it ironic that if you shoot an unarmed teen you will automatically get the benefit of the doubt by Americans who do not believe they are racist but really are,  you get a NRA paid lawyer, and you have the right wing media as an unofficial member of your PR team. But if send your child to school in a better school district and sell drugs you get five years in prison!!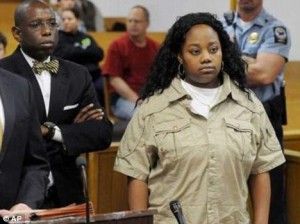 A mother who pleaded guilty to fraudulently enrolling her six-year-old son in the wrong school district has been sentenced to five years in prison.

Tonya McDowell sent her son to an elementary school in Norwalk, Connecticut, instead of her home city of Bridgeport. The 34-year-old, who was homeless when she was charged with felony larceny last year, said she wanted the best education possible for the boy.

McDowell last week entered her plea at Norwalk Superior Court under the Alford Doctrine, which means she does not admit guilt but concedes the state has enough evidence to convict her.
Read more at Celebrity Gossip News.