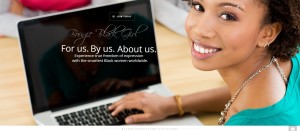 Join us January 23, 2015, at 8:00 p.m. - 9:00 p.m. EST where we discuss in the forum how to setting goals and achieve them. I will host our first forum chat. It will be open to anyone in the forum under the "General" section. We will discuss how to:
Create goals and what they are.
Set action steps
Create achievable dates
We also will figure out what deters us from achieving your goals and how we can overcome them.
It will be fun and hard, but well worth it. I will send out a reminder next week. I can't wait.
BBG
Join the forum here.
If you like this post show me some love. Subscribe, share this post and or donate to this blog. If you want in-depth solutions on how to change your destiny for the price of less than a cup of coffee ($2.99) check out my e-book, Change Your Mind, Change Your Destiny. It is the lifestyle blueprint for the strategic Black woman who wants to win and master her life.
Since you made it this far in the post, as my gift to you, I want you to download my free Change Your Mind, Change Your Life Goals and Action Plan Worksheets. The worksheets will help you create your goals and stick to them.
We want to customize the forum for you. Don't forget to take the 30 second survey here and tell us what you need. Thank you for reading.