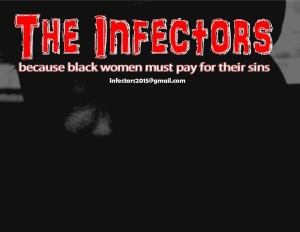 I have seen the bottom of the internet and it is horrific. The hatred of Black women has evolved into to threats against our lives. Honestly, I didn't want to write about this, but this goes too far. First it was the "rape is a revolutionary act against Black women" video and now this.
There was a Facebook page that recently appeared from the bowels of the internet called "The Infectors." Thankfully it was removed. Here is the Google cache and the Yahoo cache of the Facebook page.
On the page, the creator talked about infecting specifically Black women with a disease. It is not hard to connect that the page creator was talking infecting Black women with HIV because the page creator also posted a list of names of the Black women the person claims to have infected.
As of this moment, their video is still up on YouTube. I hope YouTube eventually removes the video and takes the full extend of action the service can take. I will not link to it. I refuse to provide them with traffic.
When we talk about the hatred of Black women, know it is not a game. Whether if it is the rantings of a lunatic, a shock vlogger who does this for money or a credible threat against Black women, please be aware. If you see pages, social media accounts and threats like this, please report it to the social media site and the authorities.
To report threats and the vile video go to:
Federal Bureau of Investigation: www.fbi.gov/report-threats-and-crime
YouTube Report Abuse: www.youtube.com/reportabuse
Thank you to the Black women who let me know about it and thank you for reading.
All your efforts have worked. YouTube removed the video. THANK YOU!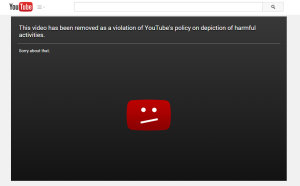 If you like this post don't forget to subscribe, share this post and or even

 

donate

 

to this blog. DONATE!! Join the internet's only online forum exclusively for Black women

 

here.
Check out my 5 steps to building a killer blog and make money from it course! Pay what you can.
Since you made it this far in the post, as my gift to you, I want you to download my free Change Your Mind, Change Your Life Goals and Action Plan Worksheets. The worksheets will help you create your goals and stick to them.
Have you seen someone you know living an unfulfilled life, and you are afraid of living that way? Are you unsure about achieving your goals and the direction of your life? Purchase my book Change Your Mind Change Your Destiny. It is "The lifestyle blueprint for the strategic Black woman who wants to win and master her life." For only $2.99 and within hours you will be given tools created specifically for Black women to create goals and action steps to help you live the life of your dreams. Take the first step towards fulfilling your dreams. All you have to do is buy Change Your Mind Change Your Destiny today. We want to customize the forum for you. Don't forget to take the 30 second survey here and tell us what you need. Thank you.