UPDATE TO THE UPDATE, TO THE UPDATE!
The QVC host Sandra Bennett responded. Please see the screen shots below.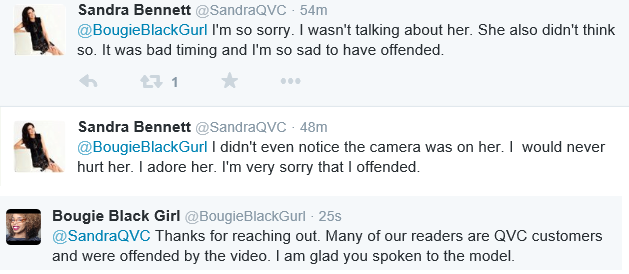 This was from her Facebook page and was shown to me by a reader.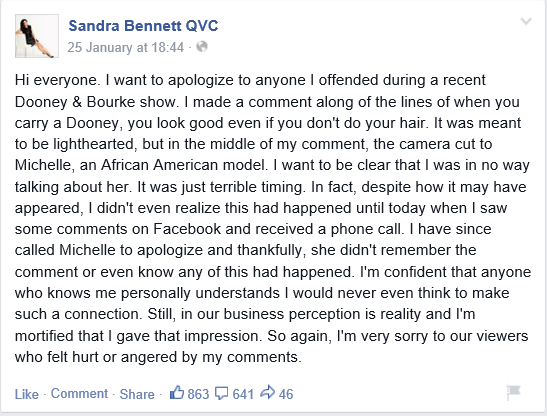 Dear Readers,
If you don't think you have a voice you do. All the calling, writing on social media and your concern over this matter paid off. This is what we can accomplish when we channel all of energy to take a stand against any bias from a large corporation. I just want to say thank you.
BBG
UPDATE TO THE UPDATE!
***One of our readers contacted us and apparently QVC took the original video down and replaced it with a new one using the same model. She appears at the 5:54 mark. Here is a screen shot.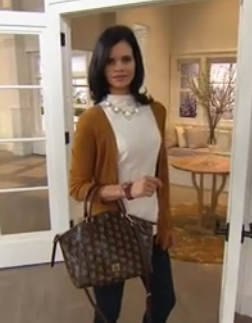 Check out the new version here.***
So the video below appeared in a natural hair group. Apparently the White women hosts on QVC felt like it was OK to insult a Black woman who has natural hair. If you don't know what QVC is, they are the folks who sell products on live TV. Check out the models reaction. It says it all.  I am heartbroken for her. In 2015, I am not surprised that it is still happening. What surprised me was how their hosts felt entitled to judge and humiliate a Black woman on TV.
UPDATE!!! Here is another video that provides the full context.
Watch the entire video here. <- You can't because QVC took the original one down.
Do you agree with this QVC? Do these women represent the views of your network?  Y'all need diversity QVC, and you must take immediate action against your hosts. Your silence and inaction equates to complicity. With over $1.1 trillion Black buying power, I look forward to your sincere apology to this young lady who was humiliated by your hosts and everyone else. Contact QVC  and let them know how you feel since their hosts felt the need to tell the world how they felt about a Black woman's natural hair here.
Transcript
QVC Host: You might look back and think, why did I wear my hair like that? But you like your bag still.
QVC Host 2: That's right.
Laughter
QVC Host 2: You won't look at your hair in the picture. You'll look at your handbag.
QVC Host: Exactly!
If you cannot see the video click here for the original by Tia Blount https://www.facebook.com/video.php?v=10153039693662351
Join the internet's only online forum exclusively for Black women here.
Since you made it this far in the post, as my gift to you, I want you to download my free Change Your Mind, Change Your Life Goals and Action Plan Worksheets. The worksheets will help you create your goals and stick to them.
If you like this post don't forget to subscribe, share this post and or even donate to this blog.
Have you seen someone you know living an unfulfilled life, and you are afraid of living that way? Are you unsure about achieving your goals and the direction of your life? Purchase my book Change Your Mind Change Your Destiny. It is "The lifestyle blueprint for the strategic Black woman who wants to win and master her life." For only $2.99 and within hours you will be given tools created specifically for Black women to create goals and action steps to help you live the life of your dreams. Take the first step towards fulfilling your dreams. All you have to do is buy Change Your Mind Change Your Destiny today.
We want to customize the forum for you. Don't forget to take the 30 second survey here and tell us what you need. Thank you.