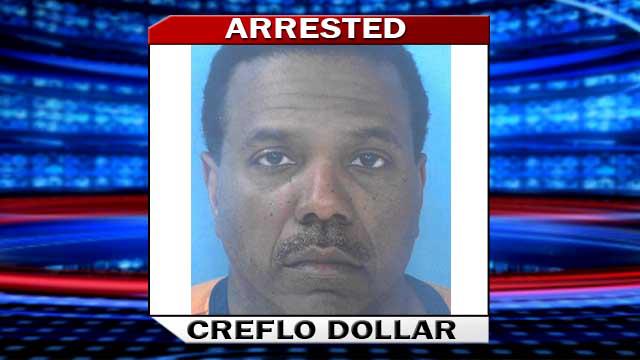 The big news is that Creflo A. Dollar, preacher at the prosperity cult World Changers Church in College Park, Georgia was arrested for beating and then choking his daughter. According to WBSTV, "deputies arrested Dollar at his home after receiving a 911 call from Dollar's 15-year-old daughter. She said her father attacked her after an argument about the girl attending a party. A witness told authorities that Dollar grabbed the girl around her throat and choked her causing a scratch on her neck, according to Fayette County Sheriff's Office spokesman Lt. Brent Rowan."
Creflo A. Dollar's $3 million home. Image via Bossip.
According to the Associated Press, "Dollar faces misdemeanor charges of simple battery and cruelty to children. He bonded out of Fayette County jail Friday morning. Dollar's lawyer Nikki Bonner said he's gathering information on the case and had no comment." He was released on $5,000 bond.
A copy of the police report. (see page four)
You would think that is enough for people to check this guy. Nope! Even after saying people should get shot for not tithing this isn't enough. The cult leaders grip on them and their wallets is strong.
I have seen comments on the intertubes (internet) where folks were saying, "that's it?", "he should have kicked her" or "my parents were worse." I guess they did not read the police report. And as a result of her father's actions a teenage girl is being slut shamed because according to some, "we know how fast crazy ass girls can be." I am a surprised? Nope. After all, the church is were women are required to submit to store front preachers who are exfelons, skirt chasers and illiterates that received a degree and certificate online for a few bucks. Most of these freaks hate women, other religions and different views.
Some will drop the ole "spare the rod spoil the child" line. Whatever!! Well this was allegedly a 50 year old grown ass man beating on a 15 year old child all because she, like most teens, wanted to go to a party and got sassy. RRRRIIIGGGTTT!  Dollar while walking out of the jail said, "Discipline my kid. Love 'em," Dollar said as he was leaving jail Friday morning." That isn't love. Its madness and if you think it's justified you are mad too.  By the way his other daughter was the witness. She changed her story because she didn't want to see her father get arrested. She later went on as claimed by the police officer in the report, to eventually tell the truth. Taffi Dollar, even though she was the one who pulled her husband off her daughter, claimed to just see "her daughter on the floor and did not see the altercation." Typical turn a blind eye to abuse church nonsense.
Image via Slave Sermons
The message of the day from Ceep D flo of YourDollars apologists is it's ok to beat and choke your daughter as long as it is done from a man who makes $80 million while claiming to know the word of Gawd. Who knew that Jesus thought abuse was acceptable? Heck who knew that buying a blessing request from Rev. Dollar meant you were going to receive a financial blessing on layaway and if not according to Rev Dollar you should be shot?  This is the same guy who defended pedophile and child predator Eddie Long. Well according to Dollar, "he (Eddie Long) got insurance." Any wonder why church membership has declined?
Sources: Atlanta 11 Alive, The Orlando Sentinel, and WBSTV.
Update #1  Dollar tweets
Creflo Dollar ?@Creflo_Dollar

Once you believe that you are righteous, you will begin do what is righteous. -Creflo Dollar #CaseDismissed
Read some of the reactions here via 11 Alive.
****UPDATE #2****
The prosperity pimp Rev. Dollar said in church today:
"The truth is, she was not choked. She was not punched." "I want the church family to know that all is well in the Dollar household." "I love her with all my heart."
He later went on to compare himself to men in the bible when he said, "Paul … Jesus … and Creflo." Arrogance like a mother. He also blamed the devil and everyone else but himself. Whelp, I guess all is forgiven.  Because according to Dollar, ""No weapon that forms against you shall prosper." Quotes via CNN.com
Creflo Dollar Defends Eddie Long
Creflo  A. Dollar Exposed
Creflo Dollar "Tithe or get shot"