The images below contain profanity. The content is not safe for work. 
Yesterday I was cruising the Facebook mean streets when I saw a video of a young woman rejecting a man's advances when he was following her. This is the version floating around on social media.
I see nothing wrong with it. Like I said before, it is obvious she is being followed and being followed by a stranger is scary. You would think that people would agree with how she handled it. Wrong! But let's step back for a second. The video was short, without context, and everyone sees things through the lens of their perspective. So people have different opinions and may disagree with me. That is fine, but what shocked me was the violence within the comments.
She was called all kinds of b's. Some people were questioning her attractiveness, which is ironic because she is being followed because of it. Other commenters were more worried about her putting him "on blast" rather than focusing on her safety.
But this comment took it to another level.


Oh, and the person who said it was a Black woman.
There were a few who said what he was doing to her was wrong. But they were quickly shot down by you guessed it. The lady who said she would have punched her.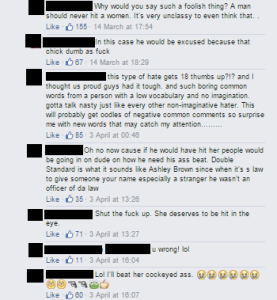 Horrific isn't it? You would have thought she cursed the man out, but she didn't. These violent reactions were simply because let the individual know she was not interested.
What the commenters didn't know was that they were watching a very small portion of video without the entire context. Here is the longer and unedited version. Watch at the 1:36 mark to the 3:52 mark.
No wonder she rejected him. She did not know the man. He obviously isn't versed in social cues, and he followed her from outside inside the store. If someone you didn't know followed you from outside inside a building and couldn't take a hint that you're not interested, you'd be creeped out too! Her reaction was correct, the men who followed her were scary and the commentors comments were vile, disgusting and frightening. I hope the person who created the video without context and those who called her every name but the child of god apologize to her because they were wrong.
Read: My and probably your experience with street harassment
Here are some things you may not want to hear.
Some of you think saying hello back means women are interested. NOPE! We are taught to be polite so saying hello comes naturally. Notice when she said "I am too nice" after she said hello back because she realized the man took it as a cue to follow her. This sadly happens to women all the time.
Next, he is not entitled to her attention, name or phone number. No man or woman is. There is no legal or even moral law that says she has to pay attention to him. If that notion is too much for you, you have entitlement issues.
Stop making excuses for this behavior. Stop believing men are uncontrollable horny beast ready to stalk and then pounce on its prey. They are not. I've seen people mention that God made men this way or if she wasn't so attractive men wouldn't approach her. Men are loving, kind and civilized human beings who are fully capable of controlling their emotions. If you think so little of men or even yourself perhaps you need to psychological help.
Finally, people need to stop thinking being a Black woman makes Black women community property to be harassed and stalked. We are human. Humans, including Black women have boundaries, and we are entitled to enforce them.
I want you ask you a question. If still this behavior is OK to you, imagine if a strange man was following your mother, sister, cousin or daughter. How would you honestly feel?
I have another question for those who believe that they stalk and harass Black women because they admire or love us. If you love Black women wouldn't you want to protect Black women instead of hurting Black women? Wouldn't you want to protect our space and bodies instead of violating them? Malcolm X said, "The most disrespected person in America is the Black woman. The most unprotected person in America is the Black woman. The most neglected woman in America is the Black woman" and he was right. The harassment, stalking and violence directed towards Black women for simply saying no is proof of it. You can end it by treating all women with respect and valuing our spaces and boundaries. 
In memory of Mary Spears and women who were harmed or killed because of street harassment.
Join the internet's only online forum exclusively for Black women here.
Since you made it this far in the post, as my gift to you, I want you to download my free Change Your Mind, Change Your Life Goals and Action Plan Worksheets. The worksheets will help you create your goals and stick to them.
If you like this post don't forget to subscribe, share this post and or even donate to this blog.
Have you seen someone you know living an unfulfilled life, and you are afraid of living that way? Are you unsure about achieving your goals and the direction of your life? Purchase my book Change Your Mind Change Your Destiny. It is "The lifestyle blueprint for the strategic Black woman who wants to win and master her life." For only $2.99 and within hours you will be given tools created specifically for Black women to create goals and action steps to help you live the life of your dreams. Take the first step towards fulfilling your dreams. All you have to do is buy Change Your Mind Change Your Destiny today.
We want to customize the forum for you. Don't forget to take the 30 second survey here.