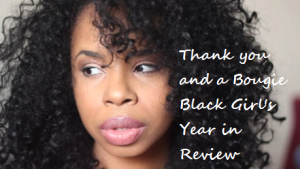 Thank you for being a longtime supporter of Bougie Black Girl. Check out my thank you to you and wrap up of this year.
Our top posts this year:
Here are my favorite posts this year.
My life is this blog and ensuring that you live the best life possible. I work harder on this blog than any job I have ever had. I don't even see this as a job because I love what I do. I just want to see my people shine. Along with help from my relatives the page and the content you see primarily comes from me.
You see blogging is my passion. You are my passion. This year has been amazing. I have lost a few things but gained so much more. I've gained you. I've done so many things I've never thought I'd ever do. I wrote a book; I am opening a forum to help Black women, and I am here speaking to you. Again thank you for being here. If you like the content we provide, consider showing your love and donating to Bougie Black Girl today. Thank you and happy holidays.
If you like this post subscribe to this blog. If you want in-depth solutions on how to change your destiny for the price of less than a cup of coffee ($2.99) check out my e-book, Change Your Mind, Change Your Destiny. It is a lifestyle blueprint for the strategic Black woman who wants to win and master her life. Since you made it this far in the post, as my gift to you, I want you to download my free Change Your Mind, Change Your Life_Goals and Action Plan Worksheet. The worksheets will help you create your goals and stick to them.
THANK YOU AGAIN!!